Please scroll this page for all the latest news, look book photography and product releases from Good Good Good 
• FEATURED IN APRIL 2020'S PRINTED ISSUE OF ESQUIRE MAGAZINE, ALONGSIDE FELLOW CAPE TOWN BRANDS, SEALAND AND MAMI WATA SURF.  
GOOD GOOD GOOD SS19, FEATURING OUR CANNABIS INSPIRED COLLABORATION WITH SHAUN HILL
Good Good Good's AW19 collection, is now available on our online shop at www.goodgoodgood.co.za, and at Cape Town's premier  boutique fashion destination, AKJP. 
The collection features Polo Rugby Shirts, Classic Work Wear Jackets, Noragi Work Wear Jackets and coats, Dinner Shorts, Wide-Leg Work Wear Trousers and a selection of graphic T-Shirts. Most of the collection is produced from textiles sourced from world renown South African heirloom textile mill, Mungo,  
A key feature of the collection is our collaboration with South African illustrator Shaun Hill, which celebrates the highs and highs of cannabis culture. This 420-inspired capsule saw further experimentation with the luxury woven fabrics of world-renowned textile mill, Mungo. Elements of the collection were inspired by the Max Romeo reggae tune One Step Forward, with select pieces from the collection featuring quotes pulled from the song's lyrics. 
Lookbook credits: • Photographer: Bert Pauw • Stylist: Gavin Mikey Collins
GOOD GOOD GOOD SS19, FEATURING OUR TILL DEATH COLLABORATION WITH MUTI
For our collaboration with renowned local design studio, MUTI, we produced a capsule of luxury casuals inspired by film noir.
Riffing on the classic line from wedding vows,''Till death Do Us Part', MUTI's illustrations each present scenarios in which a vexed wife is poised to murder her other half, scripted by quips that act as parting shots. The range, milled in luscious chenille fabric by South African heirloom textile mill Mungo, includes dinner jackets, nicci tees, t-shirts and tote bags featuring said pull quotes, such as 'Dying For One', 'Little Prick' and 'On The Rocks'.
The 'Till Death' capsule forms part of Good Good Good's AW19 collection that includes a range of items in the casual luxury mould, from shorts in herringbone chenille to cardigans and gowns in 'Kuba Zag' fabric.
MUTI's designs have been used in several of the world's most esteemed publications, recently gracing the cover of TIME magazine. This marked their second collaboration with a local fashion brand.
The look book features South African actress/musician Inge Beckmann  and South African musician Nicolaas Van Reenen.
Lookbook credits: • Photographer: Bert Pauw • Stylist: Kristi Vlok
GOOD GOOD GOOD SS18
The 5th of May 2018 sees the release of Good Good Good's SS18 collection. The collection blurs the lines between loungewear and formal evening wear. 
The core of the collection is manufactured from luxury woven throws (blankets) milled by world-renown South African heirloom textile mill, Mungo.
Key items from this collection are the Polo Shirts, Sunday Trousers, unisex Nicci Tees, Carry All Tote Bags & Evening Coats, while our Yarmulke Short Cap has been given a luxurious update. The look book also features a teaser into Good Good Good's upcoming collaboration with Cape Town multi-medium artist, David Brits, which is set for release in 2019. 
The collection is avaialble at Édifice in Tokyo, Japan, as well as at selected South African retailers, as well as on the Good Good Good online shop.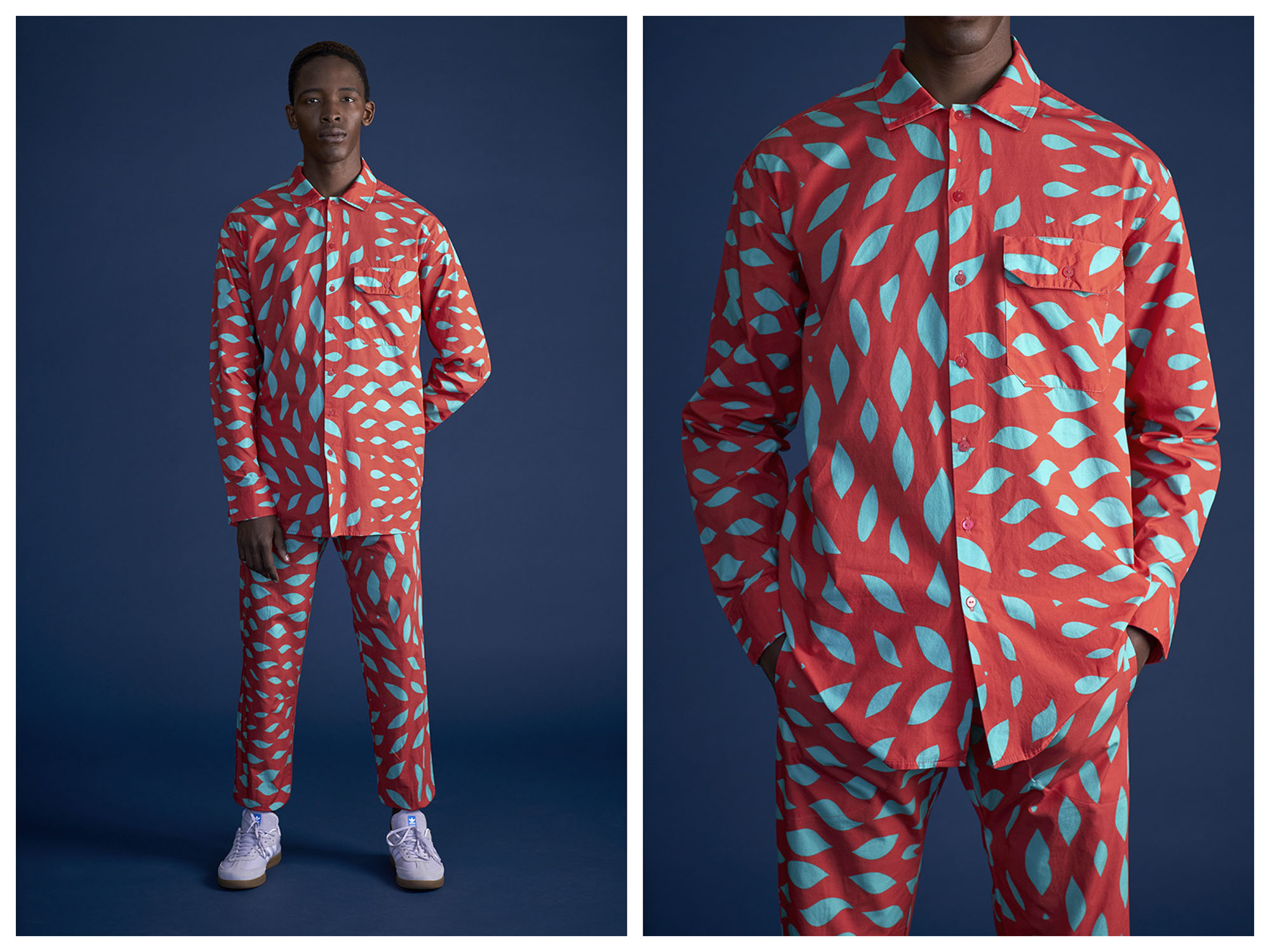 Lookbook credits: • Photographer: Anke Loots • Stylist: Anees Petersen
GOOD GOOD GOOD AW17
Good Good Good is pleased to reveal images from our AW17 Collection, which represents our first runway collection as  shown at SA Menswear Week in Cape Town. The campaign displays the unisexual wearability of the brand. Key pieces in the capsule include the cobble-weave waffle cotton work-wear jackets, trousers and shorts; contrast-striped cotton shirts; and a water repellant parka jacket. 
Also featured is a selection of the brand's upcoming headwear releases, which include soft bucket top hats, reversible 5 panel caps, and the yarmulke short cap.
The collection will be available in it's entirety from the Good Good Good online store ​ at the end of June 2017.
Lookbook credits: • Photographer: Anke Loots • Stylist: Azuli Petersen